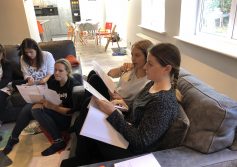 Five Reasons Why You Shouldn't Train to be an
Independent Hypnobirthing Practitioner
I'm going to level with you. Being a totally Independent Practitioner only works for a certain type of person.
This is how you'll know it's not for you:
1.You don't believe Face to Face Training with a real Person, gives you a whole lot more than interacting with a screen.
MamaSerene Independent Hypnobirthing Practitioner Training gives you:
Five Full days Face to Face; rather more than any other similar programme out there. Why? Because you get plenty of practice time; opportunity to question; space to learn about teaching and running a business. Plus, an unmissable chance to work with other like-minded women. On-line training can be great, but benefit and dynamics of working with real live people – well you do the maths!
2.You're not sure individuality is that important and prefer to be told How, Who, When and Where to teach.
Existing programmes have advantages, everything's handed to you – scripts; marketing; class structure and formats. I get it! Been there, done that, that's how I started, but eventually (being a bit bloody minded!) the need to run my own show kind of took over. Many of my now, Independent colleagues felt the same. Starting off as Independent gets you to the right place faster, if that's who you are.
3.You really don't have the time or inclination to create something unique.
Independent Practitioner Training shows you how to write your own programme. Scary, maybe. Challenging, certainly, but it means you'll be creating your course, your handouts, your slide shows. When you teach, you'll teach from the heart. Workshops will be full of confidence and enthusiasm and your clients will love you. And as you'll also be shown how to record and produce your own downloads, your clients gain valuable continuity, not just generic recordings.
4.You're not that passionate about building an inspiring business.
Launching on your own can give you the collywobbles. You may quake and mutter, 'What if I'm not successful?' 'What if I'm really bad?' But turn that round, murmur, 'How great to book my first client, and the next one, and the one after that.' Success tastes much sweeter when you've built it yourself
5.You're happy for someone else to make the money even though you're doing all the work.
This is the big one. Independent means what it says on the tin! Independent! Still an intrinsic part of an immersive and supportive group with a mentor on hand whenever you need her (that's me!), but decision, choice and money you make is yours! You pay the fee, do the training and That's It!
No yearly fees.
No 'brand' rules and regulations.
No paying for a client pack every time you get a client.
Need I say more?
If you've ticked boxes 1 – 5, nothing about this training is going to thrill you.
If you've ticked none of the above, and are now feeling collywobbles in a good way. Have a look at available Course Dates. I'm always happy to chat, so call with any questions and I look forward to meeting you.
* * *
https://www.mamaserene.co.uk/wp-content/uploads/2019/12/Training-to-be-an-Independent-Hypnobirthing-Practitioner.jpg
167
237
LWDadmin
https://www.mamaserene.co.uk/wp-content/uploads/2022/03/mamaserene_logo_FINAL.png
LWDadmin
2019-12-18 07:49:20
2019-12-18 07:49:20
Training to be an Independent Hypnobirthing Practitioner